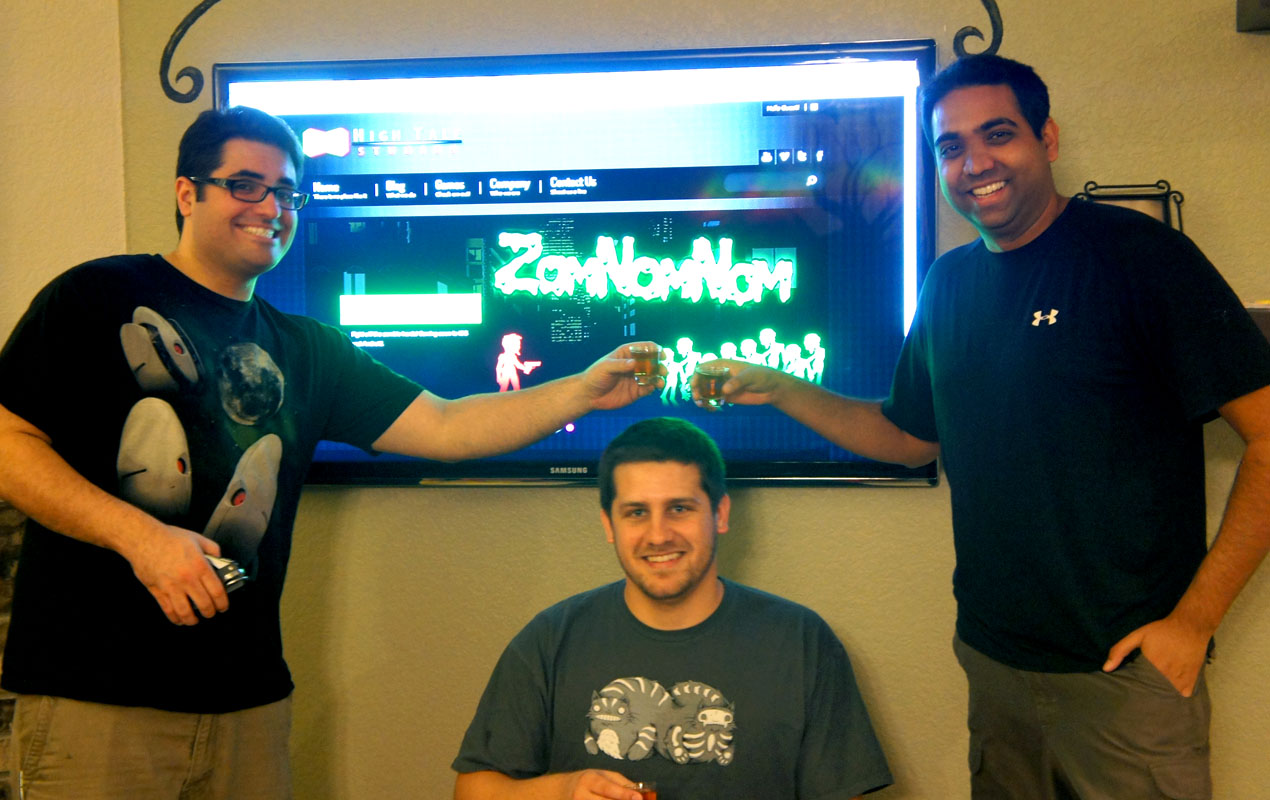 We have been working hard for over a year now on our first title, and now that the project is nearing release we have decided to make it official. As of yesterday, April tenth, two-thousand-and-twelve, the state of California now recognizes High Tale Studios as a corporation fit for business. How cool is that!? To celebrate this momentous occasion, we decided to take baby steps to our future Mad-Men-esque life styles with a shot of some high quality single malt whiskey. It is also one step closer for us to get into your pants! Um… that is, if you purchase our game, load it on your phone, and at least occasionally place said phone in your pants. Boy, that got awkward quick. We didn't mean to creep you out, and we are sorry for that.
For those of you not in the know, our first title is a zombie survival defense game coming soon to your Android and iOS devices! The game is entitled ZomNomNom and we think it is quite a doozey! You play as Red; a red-headed femme fetale that isn't afraid of a little zombie outbreak. Besides, she isn't going to give up her nice studio apartment in Anywhere, USA to some punk zombies! Using your various weapons ranging from baseball bats and axes to handguns and shotguns, you must demolish all zombies that oppose you. But don't expect this to be a cakewalk. If we ever mentioned it was a cakewalk we apologize. The cakewalk is a lie. Anyhow, back to the good stuff. With six different zombie types that want nothing more than to snack on your face, it wont be an easy task to stand your ground.
We will have more to announce about ZomNomNom in the very near future, but for now, you can just applaud us in our ability to get all official and whatnot. Also, we would appreciate it if you added our blog to your favorite RSS reader and 'Like' us on Facebook. That way you can get all of the latest and greatest High Tale Studios news faster than all of your other friends. And in the end, isn't that what we all want?
Comments
comments