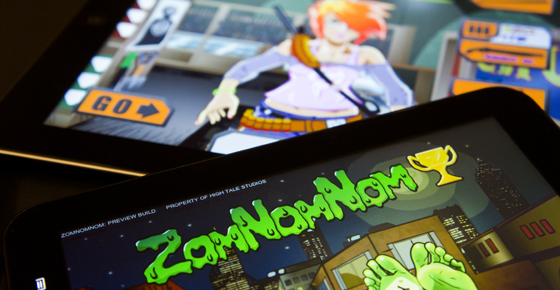 Do you review games and would you like to review ZomNomNom? Now is your chance! We have just put together our press kit for ZomNomNom. Below is our press release and link to our press kit. And we will always keep our press kits at www.HighTaleStudios.com/press
Press kit available at: bit.ly/ZomNomNomPressKit
Trailer available at: bit.ly/ZomNomNomTrailer
————————————————————
Rancho Cucamonga, Calif. — Available now, the game ZomNomNom is available on iPhone, iPad and Android
Devices. Hours of zombie killing fun for $0.99.
Zombies have infected the city! After trying to cure gaming addiction, the lab Viro Corp accidentally created a
virus that turned gamers into mindless face munchers. Play as Red, the receptionist of Viro Corp who barely
made it out alive. Use your melee, handgun and special weapons to mow down the zombie hordes coming
your way! Frantically swipe at the zombies with your melee weapon to knock their head clean off. Shoot at
them with your handgun and put your regenerating ammo to good use. Blast them away into oblivion with your
special weapons including some heavy hitting shotguns and machine guns! If you want to survive the zombie
infestation you must learn how to effectively use all three weapon types in perfect zombie killing harmony.
The zombies of ZomNomNom are beautifully and grotesquely rendered by hand. In fact our entire story is a
hand drawn comic that reveals the Viro Corp scientist's humorous failures at trying to stop the zombie virus
they helped create. With each failure comes another zombie type unique with it's own deadly properties.
Luckily you have over thirty weapons in the store to spend your hard earned money on. By the way, zombies
are loaded with money. Each kill will give you some coins bringing you closer to your next zombie splattering
tool. Can you survive the fifty addictive levels of ZomNomNom?
ZomNomNom was released on September 14th and is available for $0.99 in the US and is priced accordingly
in other regions. It is on the App Store and Google Play stores in every available region. We will provide
updates in the near future to add new and fun gameplay modes.
For more information including our official trailer and screenshots of ZomNomNom, check out our official page
for the game here: http://hightalestudios.com/projects/zomnomnom/
ZomNomNom was developed by High Tale Studios, an indie game studio specializing in fun games
engineered especially for mobile devices.
###
Promotional codes are available upon request. If you would like a promotional code, more information on High
Tale Studios, ZomNomNom or an interview, please contact:
High Tale Studios
Email: Media@HighTaleStudios.com
Twitter: @HighTaleStudios
Official Trailer: http://bit.ly/ZomNomNomTrailer
App Store: http://bit.ly/ZomNomNomIOS
Google Play: http://bit.ly/ZomNomNomAndroid
Comments
comments