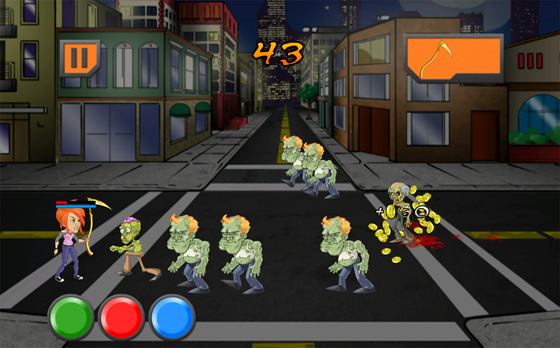 We have been working hard to bring our first big update to ZomNomNom since it's launch and it's finally here on Google Play and submitted for review for the App Store! In addition to our big update, we have also released a free version to the Google Play market and are awaiting Apple's approval so we can release it on the App Store as well.
In the update we have two major additions to the game. The first is for all of you that want bragging rights over your friends. Once you beat the game, you are awarded a Skull Badge and sent back to the start of the game with all of the weapons and coins you have earned. But for every Skull Badge you earn, the zombies get even more difficult to slaughter. Stack up your Skull Badges and brag to your friends about your amazing zombie killing prowess!
But that's not all we have stuffed in this update. After all of your zombie bashing, you undoubtedly have fat stacks of coins just waiting to be converted into something awesome, and we have just the thing for that! Game Modifiers! You can see some in action in the screenshot attached to this blog post, but some you have to hear to truly experience. Big Head Mode will puff up the noggins to more than twice their normal size for some goofy looking fun. Pair that up with Mini Mode and you will have some bobble-headed looking foes coming after you. There are five game modifiers in total to augment your zombie killing experience.
That's it for the big updates in the paid version, but wait! There's more! As mentioned before, we now have a free version of ZomNomNom available on Google Play and soon on the App Store! And don't fret about not being able to brag about your Skull Badges or get an absurdly sized head with Game Modifiers. The free version is an ad-supported game which provides the exact same experience as the paid version! So why are you still reading this? Get out there and take care of that zombie invasion!
Comments
comments